As the end of the year approaches and we find ourselves in the often thrilling, sometimes tedious thick of awards season, I wanted to take some time to tick through some of my most exciting surprises and most egregious snubs from the nominations by three of the most significant voting bodies: the HFPA (whose Golden Globe nominations were, as usual, a frustratingly mixed bag), BFCA/BTCA (whose Critics Choice nominations, save for a few outliers, I was generally quite happy with), and SAG (many of whose WTF nominations left me shaking my fists at the sky in rage). As always, there were many performances omitted from these nominations I would desperately like to have seen included, but I have tried to limit my "snub" choices here to those I think actually had a fighting chance but were ignored nonetheless. In addition, as a general matter, I should note that I take "snub" discourse pretty lightly. We are fortunate enough to be living in a time characterized by an abundance of riches in terms of the quantity and quality of films and television being produced. As a result, it is rare that I genuinely feel anyone nominated for major awards doesn't deserve the recognition they receive (though it certainly happens, and has happened far more frequently this year than I would have preferred), even if I would have made different choices as a voter. That said, there are some performances I believe are just too good to be ignored, but are, and others I enjoy very much but assume will be ignored, and aren't, and these are but a few of those from this year:
Maggie Gyllenhaal, The Deuce (SNUB, GG/SAG)
Gyllenhaal is, in my opinion, of the very best actresses working today, and she is TERRIFIC in The Deuce, which is itself a very interesting and well-made show unlike anything else on TV. She deserves far more recognition than she gets.
Richard Madden, Bodyguard (SURPRISE, GG)
This is a pretty typical GG nominations so I can't say I'm entirely shocked, but I definitely wasn't anticipating Madden (whose performance in Bodyguard, as show I enjoyed, is quite good) getting in here.
Elizabeth Debicki / Jason Ritter, The Tale (SNUB, GG/CC/SAG)
One of the great tragedies of this awards season is how criminally under-rewarded The Tale is. While Laura Dern has deservedly been recognized just about everywhere for her work in the film, Debicki and Ritter give haunting, intricate performances that are just as crucial to its success, so it would have been great to see them singled out as well.
Emma Stone, Maniac (SNUB, GG/CC)
Maniac didn't entirely work for me, but the one thing about that definitely did is Stone's (who, despite being an Oscar-winning A-list star still feels somehow under-appreciated to me) performance, so was to surprised to see her miss out on both Globe and CC nominations.
Charlize Theron, Tully (SURPRISE, GG)
Just a really great performance from such a versatile, gifted actress that I wasn't sure would be noticed but am very glad was.
Steven Yeun, Burning (SNUB, GG/CC/SAG)
One of the best supporting actor performances of the year in one of the very best movies that really deserves attention.
Rachel Weisz, The Favourite (SURPRISE, GG/CC/SAG)
Another nomination I certainly wasn't shocked by, but had look been afraid wouldn't come to fruition. Weisz is a personal favorite of mine, and she's been snubbed so many times since she won her Oscar that I didn't want to get my hopes up, especially given the Emma Stone vote-splitting risk, but now that it's happened, boy am I glad because there's no one who deserves awards attention more.
Keri Russell & Matthew Rhys, The Americans (SNUB, SAG)
The two best television performances of the last decade. There is no excuse for not nominating for any award for which they are eligible. None.
Bo Burnham, Eighth Grade (SNUB, GG)
Such a smart, funny and delightful presence, and a real breakout talent, it would have been great to see Burnham land a screenplay or director nomination.
Lily James, Mamma Mia 2: Here We Go Again (SNUB, GG)
Just a luminous ray of sunshine (always, but especially in this film), I fully expected the Globes to go gaga for her and am bummed they didn't.
Viola Davis & Elizabeth Debicki, Widows (SNUB, GG/CC/SAG)
Two powerful, devastating performances from two powerful devastating actresses who are being regrettably overlooked this season.
Rachel McAdams, Game Night (SURPRISE, CC)
A deliciously, rewardingly exuberant performance so worthy of a comedy nomination.
Ben Whishaw, A Very English Scandal (SURPRISE, GG/CC)
Another quirky, note-perfect turn from the always wonderful Whishaw I was thrilled to see get recognized.
Emily Blunt, A Quiet Place (SURPRISE, SAG)
A genuine (though the SAGs love Blunt so not entirely, I suppose), but a welcome one. Though certainly not typical awards-fare (times are a-changin'?), A Quiet Place really worked for me and I thought Blunt was extraordinary in it, so I'm glad she got this nod. She never doesn't deserve it.
Ryan Gosling, First Man (SNUB, GG/SAG)
One of the best screen performances by an actor this year, in my opinion, which is somehow inexplicably going unrecognized in favor of a number of clearly inferior ones.
Edgar Ramirez, American Crime Story: Versace (SNUB, CC/SAG)
Acted circles around the overdecorated Darren Criss in a fairly small but crucial role.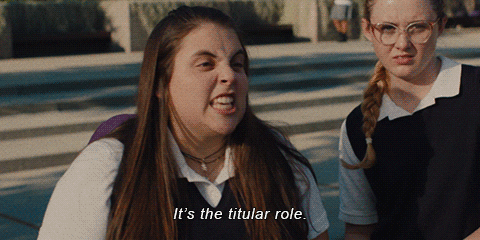 Noah Emmerich, The Americans (SURPRISE, CC)
Long overdue and so deserved.
Betty Gilpin, Glow (SNUB, GG/SAG)
Gilpin is so, so good on this show, I cannot believe her name was left out.
Carey Mulligan, Wildlife (SNUB, GG/CC/SAG)
My favorite actress, criminally underrated, etc., etc.
Constance Wu, Crazy Rich Asians (SURPRISE, GG/CC)
Crazy Rich Asians didn't do for me what it did for a lot of people, but I am so grateful it exists if for no other reason to earn the incredible Constance Wu, a true star, the respect she deserves. Here's hoping these nominations will lead to many more and a long and fruitful career.
Chloe Zhao, The Rider (SNUB, GG/CC)
One of the best films of the year, with some of the strongest and most memorable direction, which I was hoping would get more attention than it has.
Rachel McAdams/Alessandro Nivola/Rachel Weisz, Disobedience (SNUB, GG/CC/SAG)
Excellent performances all around in this very smart, emotional movie which deserved a lot more credit than it's gotten.
Marielle Heller, Can You Ever Forgive Me? (SNUB, GG/CC)
Heller has rapidly become one of my favorite directors working today, so I hoping against hope to see her slide into the race this year, and was disappointed she did not.
Elsie Fisher, Eighth Grade (SURPRISE, GG/CC)
Another remarkable break-out it's very easy to root for, and who I definitely do.
Holly Taylor, The Americans (SURPRISE, CC)
Long overdue and SO deserved.
Julia Garner, Ozark (SURPRISE, CC/SAG)
Garner's SAG nomination was a genuine gag, but a welcome one–I think she is one of the most talented, interesting actresses working on television today, and certainly one of the most exciting of her generation working in any medium.
Jodie Comer, Killing Eve (SNUB, GG/SAG)
A completely out of nowhere tour de force performance from a very gifted and versatile actress who is, unfortunately, being unfairly overshadowed by co-star Sandra Oh (who, like everyone, I love and wish the best for, but whose performance on this show is far inferior).
Margot Robbie, Mary Queen Of Scots (SURPRISE, SAG)
Definitely one of the more shocking nominations on this list, but I'm not mad about it. SAG is so wild.
Rosamund Pike, A Private War (SURPRISE, GG)
One of my absolute favorite performances of the year in a film that no one saw but I really, really liked. I had a feeling Pike might get in here, and I am so thrilled (and smug) she did.
Nicholas Hoult, The Favourite (SNUB, GG/CC/SAG)
Without question one of the best supporting actor performances of the year. And yet no love. How come, Chief Willoughby?
Daniel Brühl, The Alienist (SURPRISE, GG)
I was shocked by how much I enjoyed the Alienist, and always happy to see Brühl (of whom I've long been a fan) show in any conversation.
Hirokazu Kore-eda, Shoplifters (SURPRISE, GG/CC)
Also not really a surprise, but since this film is (spoiler) my favorite of the year, the idea that it might miss out any nominations was deeply traumatic for me, so I'm tremendously relieved it didn't.
Thandie Newton, Westworld (SNUB, SAG)
Always the best and most interesting part of an often frustratingly convoluted show.
Full Cast, Schitt's Creek (SNUB, GG/CC/SAG)
This show is pure, unadulterated joy, and its incredible cast deserves far more awards love than they get.
Elizabeth Olsen, Sorry For Your Loss (SURPRISE, CC)
I have to admit I haven't seen this show yet, but I am such a fan of Olsen and have heard nothing but good things about it, so was pleased to her her pop.
Ben Foster,  (SNUB, GG/CC/SAG)
A shamefully underrated character actor, who gave one of the best performances by an actor this year.
xx
JB